IN STORE PICK UP AVAILABLE AT CHECKOUT & Free shipping on orders $125 and over
Login
Log in if you have an account
Dont have an account? Register
Mint Bitters & Mint Julep & Kentucky Derby History
05 May 2022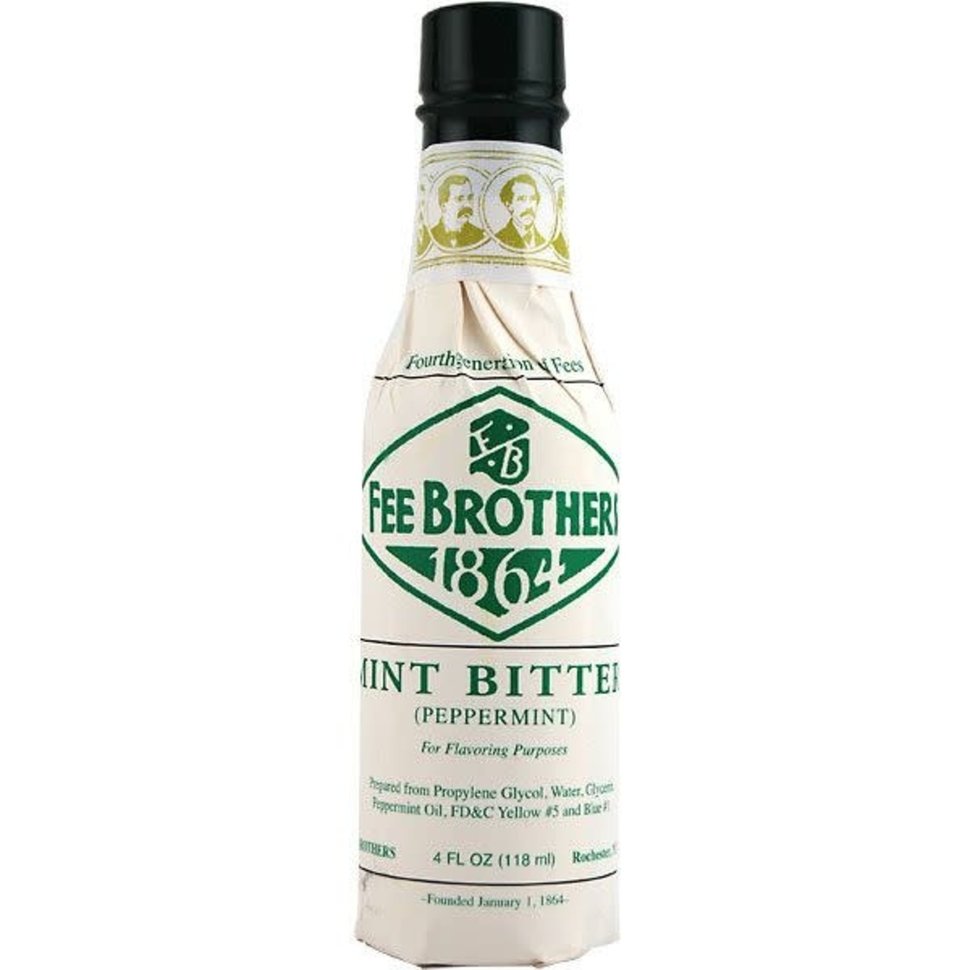 Fee Brothers' History:
In 1864, James Fee opened a grocery and liquor store in Rochester, NY to help support his large, close-knit family. His brothers helped him grow the store into a successful winery and wine import business. The name was changed from James Fee & Company to Fee Brothers in 1883.
Surviving Prohibition: 
When prohibition began in 1920, Fee Brothers kept themselves afloat by making altar wine & distributing wine-making supplies. They even consulted with homeowners to legally make their own wine at home. It was legal to make a small amount of wine for personal use, but making and selling stronger spirits was strictly forbidden.
That didn't stop people from trying though, and poor quality alcohol flooded the market. Most of the people making this black market booze had no clue what they were doing. For that reason, most of the alcohol being sold in saloons and speakeasies tasted terrible. Fee Brothers saw this as an opportunity and developed a line of cordial syrups and drink flavorings. They designed them to make inferior spirits taste like the real thing. Benedictine, Chartreuse, Brandy, and Rum flavorings were among their most popular products.
Cocktail Bitters:
When prohibition ended in 1933, Fee Brothers started selling liquor again. They kept making their cordial syrups though, and they remained very popular. Therefore, they soon decided to focus on mixers, syrups, and flavorings instead. By 1950 they were on a never-ending quest to develop new products and their flavored cocktail bitters line really became a focus. Fee Brothers' product list now boasts almost 100 drink mix products. Today they're best know for their huge selection of flavored cocktail bitters.
Mint Bitters:
Fee Brothers Mint bitters are an unusual and difficult to find bitter that adds a bright, straightforward peppermint flavor to your favorite cocktails. They're perfect in punches or cocktails when you don't have fresh mint leaves handy, or can even be used to add a minty boost to muddled mint cocktails like the Mojito, Julep, or Smash. They're also great when added to desserts, toppings, sauces, or milk shakes! Mint Juleps are a old school classic that definitely benefit from an extra minty boost from a few dashes of Fee's mint bitters. Learn more about Mint Juleps below and continue reading to see a video cocktail recipe!
The Kentucky Derby:
America has been spellbound by the Kentucky Derby since Churchill Downs first opened in 1875. This extraordinary horse race is not only an iconic part of Americana, it's also one hell of an excuse to throw a party. You and your friends get to dress up in your Sunday best, don pastels and seersucker, and bust out the biggest, fanciest hats you can find. And of course, you can't forget the mint juleps. 
Mint Juleps:
The mint julep has been the official drink of the Kentucky Derby since 1938, but it was  popular in Kentucky long before that. Kentucky Statesman Henry Clay is credited with making the mint julep popular nation-wide in the early 1800s. Clay served both as a United States Senator and Secretary of State and he shared his beloved mint juleps with his fellow statesmen. Mint juleps have been synonymous with Kentucky ever since. 
Silver Julep Cups:
An iconic cocktail deserves an iconic vessel, and the mint julep certainly doesn't disappoint. Sterling silver cups have been a symbol of esteem and prestige in Kentucky for over 200 years. Kentuckians have actually been using silver cups to celebrate special occasions and give as prizes since the early 1800s. The sleek and timeless design of today's silver julep cups is accredited to early master silver smiths from Kentucky.
Old School Method:
In 1908 The Chicago Tribune ran an article about making a mint julep, quoting Lexington, Kentucky's Samuel Judson, "Take a silver cup—always a silver cup" he said. "Fill it with ice pulverized to the fineness of snow. Bruise one tender little leaf of mint and stick it in the ice. Then dissolve a spoonful of sugar in about three-quarters of aKentucky drink of good whisky and let the fluid filter through the ice to the bottom of the cup. Shake the cup slowly until a coating of a thick white frost forms on the outside. Trim with mint and hand to an appreciative gentleman."
Mint Julep Recipe:
Mint Julep Recipe:
8 fresh mint leaves, plus more for garnish
1/4 to 1/2 oz simple syrup, to taste
2 dashes Mint bitters
2 1/2 oz Kentucky Bourbon
Finely crushed ice

Muddle mint leaves, simple syrup, and mint bitters together in a mixing glass. Add 2 1/2 oz bourbon and plenty of ice. Stir to chill and strain into a julep cup filled with finely crushed ice. Garnish with a sprig of fresh mint and enjoy!